Cooking with Garlic Scapes
There are plenty of wonderful recipes on the internet for using garlic scapes. Here are just a few ideas. (in most cases, it is best to cut off the green stem above the flower bud)
Garlic Scape Pesto (pesto can be frozen for later use)
Garlic scapes, the curled flower from the top of a garlic plant, make an easy, fragrant pesto that can be spread on bread or crackers and as a substitute for garlic, onion, or scallions! Add to sandwiches, pasta, lamb, and fish dishes. Tastes great mixed with mayo. Serve the garlic scape pesto on sliced mushrooms as an hors d'oeuvre, in celery sticks, mixed in with mashed potatoes, as a vegetable dip, smeared on a sandwich as a condiment (grilled cheese!), under the cheese on a pizza, between layers of lasagna, mixed in with breadcrumbs or rice and sausage for stuffing a pepper or tomato or avocado or big portobello mushroom, as a garnish dolloped onto a bowl of soup, scrambled with the morning eggs...in short, nearly any way you can imagine! Note: if you plan to freeze the pesto, leave out the cheese and instead add any cheese you want after you thaw the pesto.
Start with the scapes and process for about 30 seconds. Add sunflower seeds or pine nuts until they are broken down and mixed well with the scapes. Scrape the sides of the bowl with a rubber spatula for wandering bits. Next, pour in the olive oil. If you have Parmesan cheese in chunks, add it now, but if it is grated, wait until the scapes and seeds smooth out. If you're serving right away, add the basil and lemon juice. If not, hold back on the basil for now — otherwise the pesto will lose its vibrant color. Add generously to cooked spaghetti or spread on crusty bread.
Ingredients
1 cup garlic scapes, sliced crosswise (about 10 to 12 scapes)
¼ cup raw sunflower seeds
½ cup extra virgin olive oil
¼ cup Parmesan cheese
½ cup basil leaves
Juice of one lemon
Preparation: Place the garlic scapes in a food processor and pulse for 30 seconds. Add sunflower seeds and pulse for 30 seconds. Scrape down the sides of the bowl. Add olive oil and process on high for 15 seconds. Add Parmesan cheese and pulse until the ingredients are combined. Add basil and lemon juice, process until reaching the desired consistency. Add salt to taste and serve immediately.
Freezing Garlic Scapes
Try garlic scapes fresh or frozen as an addition to salads, into soups or other dishes or to add a new variety of garlic flavor to your dishes throughout the year.
Rinse off garlic scapes briefly. Chop garlic scapes into 1/8- to 1/4-inch segments as you would chives. You may also leave them whole for freezing.
Place garlic scapes into a cheesecloth bag or fine mesh strainer and blanch in boiling water for 30 seconds. To blanch, dip a batch of scapes in the strainer or cheesecloth in boiling water and then cool them in a bowl of ice water. This will briefly cook them, kill any bacteria and then cool them to stop the cooking process.
Spread garlic scapes thinly on a cookie sheet and freeze. Freezing initially on a cookie sheet helps prevent clumping. Place frozen garlic scapes in a freezer bag or sealable plastic container and store in the freezer. Use within a month for the best flavor, according to the National Gardening Association.
Grilled Scapes
Another great, and very different, way to showcase scapes is to grill them, tossed with a little olive oil, salt, and pepper, over direct heat for about two minutes. Flip them once, halfway through, and finish with an extra sprinkle of flaky salt and maybe a bit of lemon juice and zest. They'll be charred in spots and just soft enough, and their flavor will have sweetened and mellowed dramatically. Grilled scapes are surprisingly reminiscent of asparagus, and surprisingly different from raw scapes.
Scape Hummus
For the same reason they work well in pesto, scapes are a brilliant swap-in for garlic in your favorite homemade hummus.
Ingredients
2 cans of chick peas (garbanzos), drained
1 cup sesame seeds or tahini
2 tablespoons olive oil
1/2 cup lemon juice
1/2 cup fresh chopped garlic scapes
Place the ingredients in a blender and mix on high until a thick paste forms. Salt to taste.
Variation: Add your favorite curry, to taste.
Scapes as vegetable: Scapes also work well as a vegetable, cut into lengths and added to stir-fries or blanched and added to salads, much as you might use green beans or green onions.
Scape Soup: There are many ways to use scapes in soups by adding them just as you would any vegetable. Here is a recipe that focuses more on scapes as a main ingredient.
Spinach, Pea and Garlic Scape Soup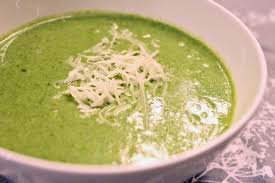 Ingredients
canola oil

a big dab of butter
1 onion, peeled and chopped

4 garlic scapes, chopped
1/2 cup of fresh chives
16 oz of fresh spinach leaves
1 cup of frozen green peas
1liter chicken or veggie stock
Dash of salt
1 tbsp of cream
In a large saucepan, heat a drizzle of oil with a dab of butter over medium-high heat. Cook the onion for a few minutes, until soft. Add the garlic scapes and tear in the chives, sprinkle with salt and cook for a few more minutes, until everything is soft. Add the spinach and peas and cook until the spinach wilts. Add the stock and bring to a simmer; cook for 20 minutes, or until all the veggies are nice and soft. Season with salt and add a splash of cream. Puree with a hand-held immersion blender (or transfer in batches to a regular blender) until smooth. Serve warm.
Scapes with Pasta
Again, you can use scapes in many ways with pasta, here is a fun recipe with a different way to bake pasta--in rolls!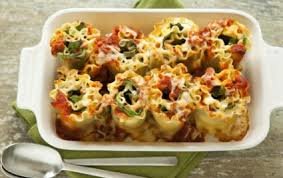 Ingredients
1 lb. lasagna noodles
32 oz. ricotta cheese
1 egg
½ cup garlic scapes pesto
Marinara sauce
Shredded mozzarella cheese
An ovenproof dish.
Preheat oven to 325 degrees.
Cook lasagna according to package directions. Drain and, when cool enough to handle, separate the noodles so they don't stick together. Using a blender, mix the ricotta cheese with the egg. Stir in ½ cup pesto. Spread 2 to 3 tablespoons of the ricotta mixture over each noodle, completely covering each. Roll each noodle letting a little of the ricotta escape out of each end. Pour a thin layer of the marina sauce in the bottom of the dish. Place the noodle rolls on their sides, ruffled edges facing up. If using a shallow dish, slice each roll in half and place the halves, ruffled edge up, in the dish. After filling the dish, pour more of the sauce around and on top the noodle rolls.
Sprinkle shredded mozzarella cheese on top.
Bake the deep dish at 325 degrees for 40 to 45 minutes, the shallow dish at 325 degrees for 35 to 40 minutes. Serve with additional warm marinara sauce.